PROFESSEUR BULK
PROFESSEUR BULK
Professeur BULK is a botany enthusiast who continuously prospecting to unearth original plants and offer you their seeds for your own cultivation.
THE CONCEPT
PROFESSEUR BULK do not sell plants but only seeds for:
➪ Take pleasure in germinating your own plants
➪ Discover new varieties
➪ Raise awareness of culture, respect for plants
➪ Ship easily without the constraints of weight and volume of a plant
THE LABORATORY
THE RESEARCH
The plant world is huge and complex.
A plant can have a multitude of names and varieties depending on the history of its discoveries. It is a beautiful richness but complex. Professeur BULK inquires, prospecting to find original plants and find certified seed producers.
THE EXPERIMENT
Professeur BULK has fun testing different germination techniques depending on the substrate, sunshine, watering in order to design the ideal guide for germination and maintenance of the plant. This preliminary germination makes it possible to check the variety and the quality of the seeds. The seeds will only be offered for sale after these serious checks.
THE ENGAGEMENTS
Professor Professeur BULK undertakes to:
➪ obtain supplies only from quality producers.
➪ sell the right variety of seeds
➪ offer seeds with a high germination rate
➪ order in reasonable quantities to guarantee the freshness of the seeds
➪ donate 1% of the amount excluding taxes of each order to WWF (excluding shipping costs)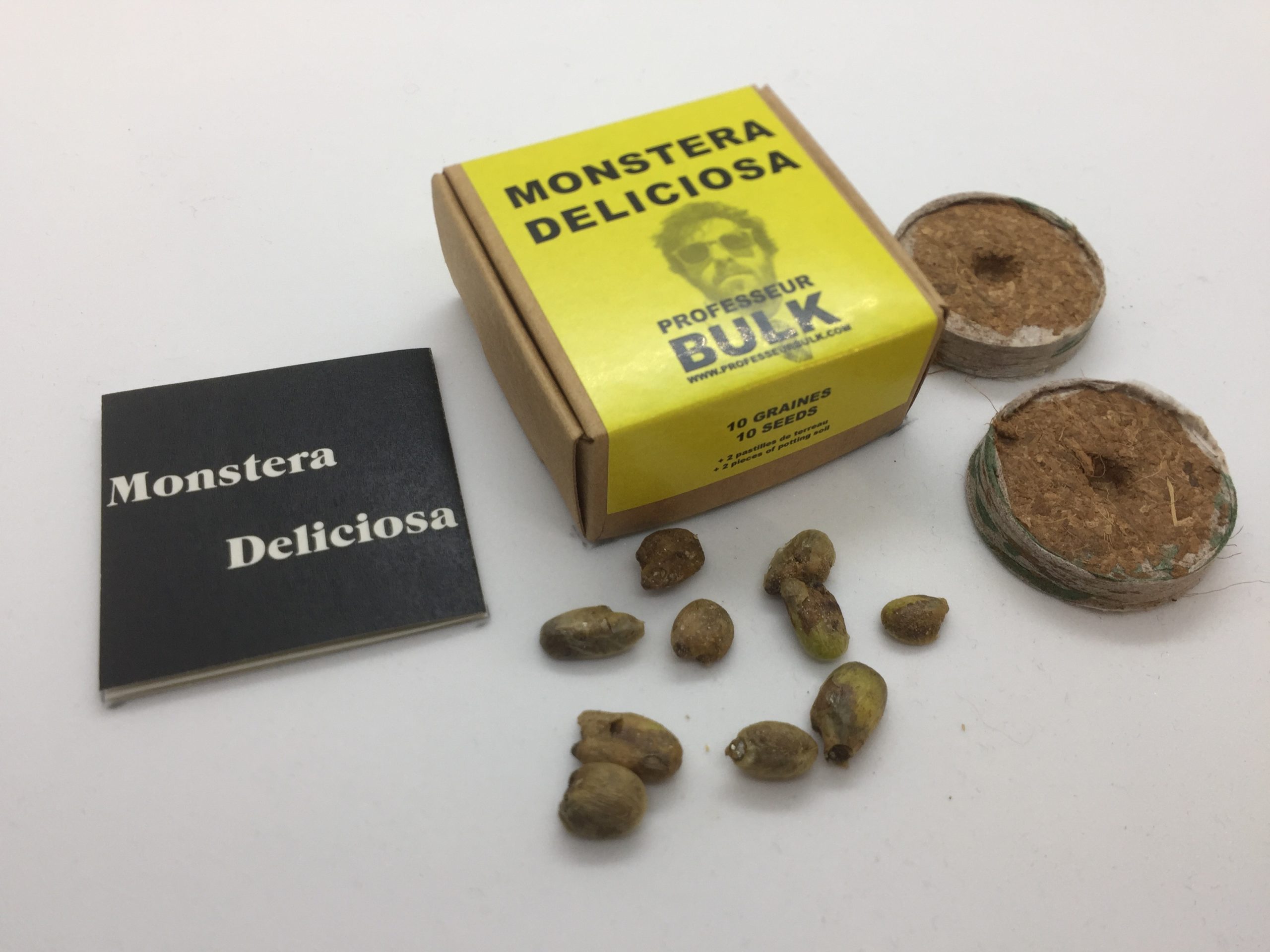 THE PRODUCT
PACKAGING
Zero plastic
The packaging has been designed with an aesthetic, ecological and reasoned approach.
It is produced and assembled according to orders so as not to produce it unnecessarily.
It keeps seeds and bulbs dry and protected from light without using plastic. Kraft cardboard is made from recycled materials.
Assembly glue and ink are organic.
Dimensions: 6 x 6 x 3 cm for seeds
Dimensions: 12 x 12 x 5 cm for bulbs
SEEDS and BULBS
The seeds are sold by 5 or 10.
The bulbs are sold individually.
THE GUIDES
➪ a guide explaining how to germinate your seeds or bulbs.
➪ a maintenance guide for your plants according to substrate, watering and exposure.
➪ a short description of the plant and the seeds or bulbs.
THE COMPLEMENT
➪ Two pieces of compressed soil for germination (for seeds)
➪ Sphagnum moss for germination (for bulbs)